Cornerstone
Winning Souls and Making Disciples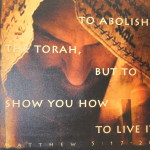 Keeping the 7th Day Sabbath
""Thus says YHWH: Take heed to yourselves, and bear no burden on the Sabbath day, nor bring it in by the gates of Yerushalyim:"
Yirmeyahu 17:21
Sabbath Worship
"We love because He first loved us." 1 John 4:19
August 23, 2014
9:45 am Torah Steve Bothum
Whole Portion- Devarim (Deuteronomy) 11:26–16:17
Triennial Portion- Devarim 12:29: – 14:29
9:45 am Youth Hebrew Class Eileen Blackman
Age-appropriate student must be able to sit and learn Hebrew.
11:00 am Welcome
Announcements
Worship
Prayer
Message-John 9:1-5 Pastor Rick Chesher
11:00 am Prayer Meeting Kathy Pack
1:15 pm Bracha and Oneg (Blessing & Lunch)
2:30 pm Midrash (to inquire/seek) Steve Bothum
~
During 9:45 am and 11:00 am services, the microphone is
passed around for the purpose of questions and comments pertaining to the teachings only.
~
Unauthorized people are not allowed in the
Sound Booth at any time.
~
Upcoming Events
TODAY
2 pm -2:30 pm
Informal Elders /Congregational Mtg
~There will be a sharing time with the Elders and the Congregation about the financial status of Cornerstone after Oneg TODAY
Cornerstone Clothes Closet
~ Come and check out our Clothes Closet for clothing items you or someone you know may need. (Men's, women's and children's clothing
Friday
September 5th
9 am-11 am
Homeschool Co-op Meeting
~Anyone interested in finding out more about
the Homeschool Co-op, come and meet others who are enrolling their children in the coming school year at Cornerstone.
Tuesday
September 9th
11:30 am – 1 pm
Seniors Monthly Gathering
~Next month we will resume gathering in the Fellowship Hall; bring your own Brown-Bag Lunch. This will not be an Oneg. Join us for having fun and catching up with fellowship.